Ratings and Reviews of Online Casinos
---
Free Sign-Up Bonus: 100 Free Spins ( Free Sign-Up Bonus Link )
First Deposit Bonus: 150% up to €/$ 200 ( Registration Link )
---
Free Sign-Up Bonus: 70 Free Spins ( Free Sign-Up Bonus Link )
First Deposit Bonus: 100% up to €/$ 300 ( Registration Link )
---
Free Sign-Up Bonus: 50 Free Spins ( Free Sign-Up Bonus Link )
First Deposit Bonus: 150% up to €/$ 1000 ( Registration Link )
---
Incorrect properties for Shan characters
December 9, 2022, 1:54pm
#1
I think glyphData has incorrect properties some Shan characters.
These are all spacing characters (using my naming scheme)
1084 aeSign-myanmar
1062 shortAa-shan
1083 longAa-shan
1087 tone2-shan
1088 tone3-shan
1089 tone5-shan
108A tone6-shan
thore as defined a "Spacing Combining" as suggested by the Unicode category.
Bendy
December 9, 2022, 8:55pm
#3
Right. But with default properties in Glyphs they get no advance width (on export)
Can you send me that font?
Bendy
December 10, 2022, 8:39am
#5
I've fixed the problem manually already. This is why I prefer to set all glyph properties manually in every font.
But it should be correct in the GlyphData. And if I add a glyph e-shan (uni1084), it will keep its width on export. When you use your own names, what category/subcategory do you get by default?
Bendy
December 10, 2022, 8:50am
#7
This is what happens if I add 1084 to a new font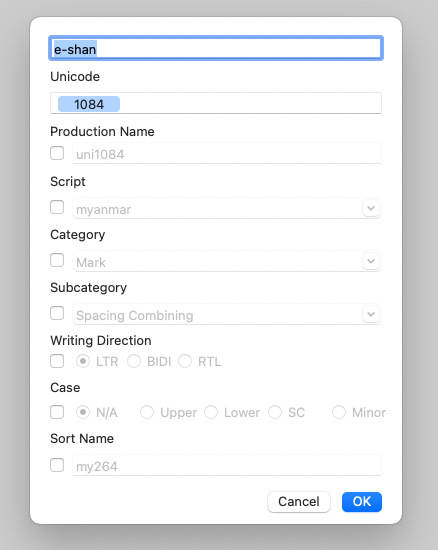 It doesn't want to be a mark
EDIT actually I don't understand what 'Spacing Combining' means as a subcategory. I didn't think Unicode properties were relevant here. I always use just 'letter' and 'spacing' and the fonts turn out correctly.
The difference between "Letter" and "Mark/Spacing Combining" is mostly where the glyph is put in font view.
Bendy
December 10, 2022, 9:14am
#9
Ah right, that info doesn't determine GDEF or get translated into the exported fonts at all?
I always write my own glyphOrder anyway, since I don't find the separation of letters/marks/other stuff useful. I keep each script in a continuous block in alphabetic order.